MOTOR BUS SOCIETY
FALL 2003 CONVENTION
Boston, Massachusetts
October 10-12
The Fall 2003 MBS Convention will be held during the three day Columbus Day weekend of October 10th, 11th and 12th in Boston and the eastern Massachusetts area.
Headquarters Hotel: Headquarters for the event will be the Holiday Inn Express Boston-Somerville hotel, located at 30 Washington St. in the Sullivan Square area north of the Boston city center.
Registration: The Registration Fee for the convention is $40.00 for any or all days. To assure that space will be available for the garage tours, advance registration is strongly recommended. In case of any shortage, persons with advance reservations will be given priority.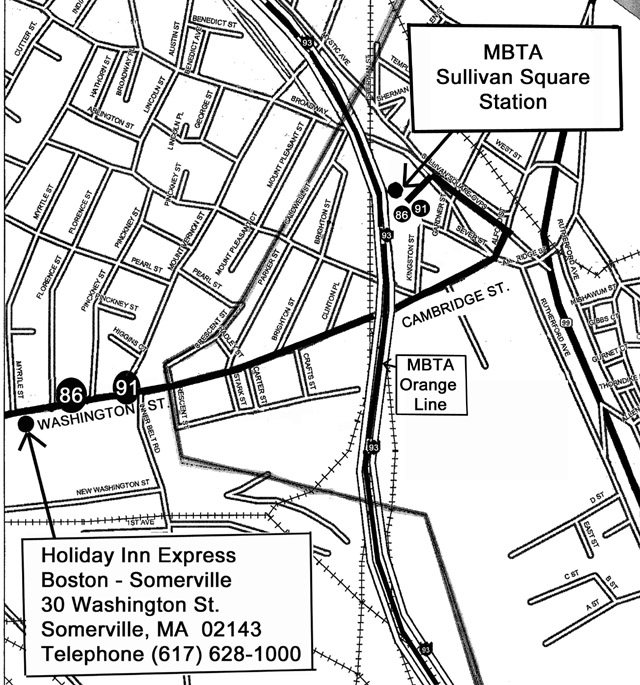 Hotel Access: The hotel is located on Washington St. in the Sullivan Square area in the City of Somerville which is west of Charlestown in which the MBTA Sullivan Square Station of the Orange Line is located. From Logan International Airport by transit, take the Massport free shuttle bus from the airline terminals to the MBTA Blue Line Airport Station. Board southbound Blue Line train to State Station. Take northbound Orange Line train from State to Sullivan Square Station. Take MBTA Line 86 or 91 bus to hotel at 30 Washington St. The hotel is a 10 minute walk from the MBTA station, via the Cambridge St. exit. Walk west along Cambridge St., which becomes Washington St. to the hotel. There is also a shuttle bus service between the airport and various downtown hotels. Attendees arriving by automobile, exit Interstate 93 at the Sullivan Square off-ramp (Exit 28).
Convention Activities: Registration and sign-in will take place in the hotel lobby starting at 7:30 AM on each day, and buses will depart promptly at 8:00 AM. The Saturday tour is expected to return to the hotel by 6:00 PM. The semi-annual business meeting will commence at 8:00 PM on Saturday evening; it is usually preceded by a flea market at 7:00 PM. These times may fluctuate, depending upon the arrival of the Saturday garage tour. The Sunday tour is expected to be completed by 5:00 PM.
Garage and Facility Tours: The tentative itinerary includes the following stops, which are subject to final approval:
Friday Southeast Boston area-Providence Day-visits to Brockton and Attleboro MA and Providence RI.
Saturday: Northeast Mass-Southern Maine Lowell MA, Portland ME and the Seashore Trolley Museum.
Sunday: Boston-MBTA—MBTA facilities in Boston.
 Fall 2003 Convention – Boston MA, October 10-11-12
Attendance Registration and Reservation Form
Mail to:
Motor Bus Society
Director of Conventions
Post Office Box 251
Paramus, NJ 07653-0251
Please make __ reservations for me at $40.00 each. I am enclosing $_______
Name: _______________________________________________________________________
Guest(s): _____________________________________________________________________
Address: City: __________________________________State:____ ZIP: ________________
Telephone: ( ) - Fax: ( ) - E-mail:
Hotel Reservations
 Motor Bus Society
 Fall 2003 Convention–Boston MA, October 9-12
Send to:                                                           Or contact:
Holiday Inn Express – Boston-Somerville              Holiday Inn Express – Boston-Somerville
Attn: Ruth LeBron                                             Group Reservations
30 Washington Street                                         Telephone: (617) 628-1000
Somerville, MA 02143                                       Fax: (617) 628-0143
 Please refer to MBS Convention
Please reserve __ rooms for ___ nights for me at the MBS rate of $99.00 per night (plus state and local tax). I will be arriving on October __ and departing on October ___.
Name: _______________________________________________________________________
Address: _____________________________________________________________________
City: State: ZIP Telephone: ( ) -
All hotel reservations must be made by October 1, 2003. Rooms must be guaranteed by a credit card. If you are making a reservation by mail and wish to guarantee it on your credit card, complete the section below:
Type of card: _____________ Number ____-_____-_____-_____ Expires ___-___
Signature