Convention Report
Spring 2003
Salt Lake City, UT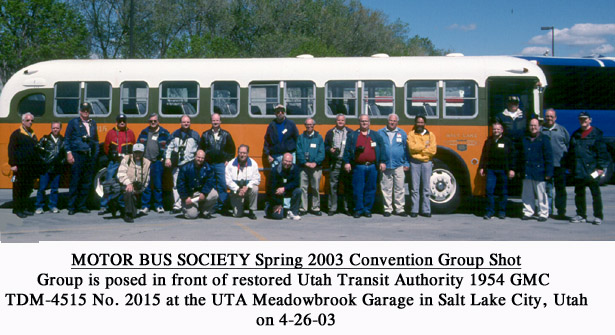 The Spring 2003 Convention of the Motor Bus Society was held during the weekend of April 26-27 in the Salt Lake City, Utah area. Headquarters for the meeting was the Quality Inn Downtown Salt Lake hotel, located at South 600 West and West Temple South, a block from Main St. And the UTA's new LRT line and bus service.
Convention activities were arranged by new Salt Lake City memgber Tim Christofferson with assistance from Denver member Mike McGowen and Director of Conventions Dino Mandros. Tim is a part-time driver for Lake Shore Motor Coach Lines of Provo, who supplied an MCI 102-C3 on both days (which Tim piloted).
The meeting was attended by 27 members and friends. Although both days were filled with interesting stops, the pace was more leisurely than recent trips and came off with only one minor incident.
Saturday: Saturday was UTA day, but it started with a stop at the Greyhound terminal and garage, one block from Temple Square. Then it was off to the Lewis Brothers Stages garage; for charters, Lewis Brothers operates mostly MCI and TMC parlor buses, but a number of Prevost units have been added since 1997. Contract service is provided by a group of Thomas-Dennis and a few Gillig transit buses. The next stop was at Le Bus (Jackson-Rock Springs Stages, Inc.), where a diverse fleet of Prevost, Dina, and MCI, are used for regular charters; but a number of GMC Buffalos were still on the property, although not in operating condition. After lunch, the group headed for Utah Transit Authority's Meadowbrook facilities. This location is the administrative and maintenance headquarters, as well as an operating division. Nearly all of the different UTA bus types were seen here, including MCI Classics, Orion I's, II's and V's, Gllig Phantom and low floor units, New Flyer artics, MCI D-4500's and two New Flyer low floor hybrid buses. But the highlight of the dat was restored GMC TDM-4515 No. 2015(?)–a former Lake Shore Motor Coach Lines bus (originally of Greyhound lineage). The bus had been restored in Salt Lake City Lines yellow, green and white (fruit salad), complete with SLCL logo. Although Lake Shore had been owned by Salt Lake City Lines in the 1960's, it maintained a separate identity, and was not painted in the standard NCL fleet colors of the time, which was light green with a dark green belt stripe and a white roof. The old gal was cranked up and moved out for photos, the group shot and rides around the yard. Afterwards, the tour proceeded to the UTA's light rail facility where the Siemens LRT's were inspected. Also on the property were two sets of high-floor Santa Clara Valley (San Jose) cars. UTA is considering acquiring a number of the units, which were made surplus in San Jose by the arrival of a fleet of low-floor cars. The group took a ride on one of the Seimens LRT's to the south end of the north-south Blue Line at Sandy. The UTA light rail system, called Traxx, is amazingly well patronized on weekends, and two-car trains are operated throughout the day. The final stop was in Ogden, and a visit to the Union Pacific museum and the UTA Ogden Transit Cenrer. The trip ended at th hotel on time at 6P00 PM.
Semi-Annual Business Meeting: There was no business before the memberships, and the meeting was quickley adjorned for a slide show hosted by Harry Peat, Mike Glikin (with Andrew Grahl's views of the 2002 SLC Winter Olympic buses) and Jerry Squier (vintage Salt Lake City views).
Sunday: Sunday was Scenic Tour day. The tour started with a drive on Interstate 80 up into the Wasatch Mountains east of Salt Lake City to the town of Park City. This popular skiing and vacation spot is very unique in that it is packed into the bottom and sides of a small river valley. But rather than spoil ene looks with numerous parking garages, the City operates a fare-free transit service using a fleet of 19 35-foot Gillig
transit buses (12 Phantoms and seven Low-Floors), along with a Chance replica trolley and a trio of El Dorado cut-away vans. In the City garage, each bus has its own stall, and the buses are parked in numerical order! After the garage tour, the group boarded one of the in-service Golig Low Floor buses for a ride to the downtown transit center. The quaint downtown is built on the slopes of the valley and reminds one of something out of the Swiss Alps. Park City was a Skiing venue during the 2002 Winter Olympics, and MBS member Les Hoffman of Seattle, who had volunteered to drive at the event, explained how the operation worked and pointed-out the various locations of interest. The tour then continued south on U. S. 40, and made a stop at the Heber Valley Railroad (a scenic tourist railroad); it then continued to Heber City, and then took U.S. 189 past the large Deer Creek Reservoir and into Provo arriving there around noon thie. The plan to have lunch at the University Mall was thwarted when it was discovered that the facility was not open on a Sunday. A Wendy's was found down the street, and the only glitch in the trip was quickly resolved. After lunch, the group proceeded to Lake Shore Motor Coach's Provo garage. LSMC operates a fleet of mostly MCI and TMC parlor buses, including 102-C3's, MC 9's and 8's, and even a single MC-7. Also on the property were a number of older GMC parlor buses that had been made into house cars. Before departure from Provo, a side trip was made to view the Union Pacific and regional Utah Railway for the benefit of the railroad fans on the bus. The tour and the convention ended after an hours ride on Interstate 15, arriving at the hotel shortly before 4:00 PM as scheduled. This enabled individual attendees to take rides on the UTA Traxx system or selected bus routes
Photos