Convention Report
Fall 2004
Washington, DC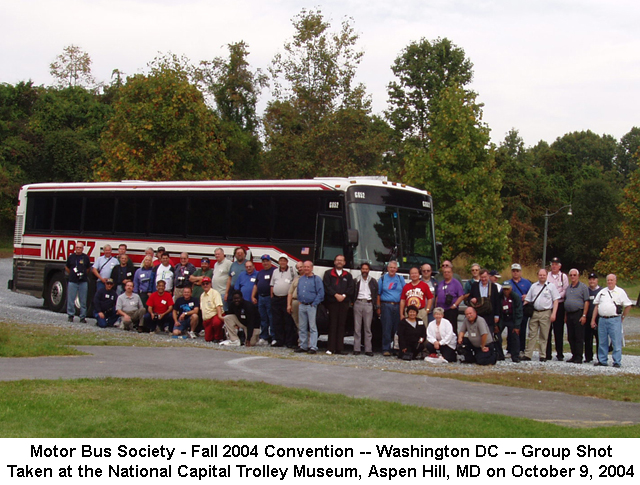 The Fall 2004 convention of the Motor Bus Society was attended by sixty members and guests, and was held in the Washington DC area during the Columbus Day weekend of October 8, 9 and 10. Headquarters hotel was the Days Inn-Crystal City, located on Jefferson Davis Highway in Arlington, Virginia. The location was a mile from the Ronald Reagan Washington National Airport and a few blocks from the Crystal City WMATA Metro Rail station. In charge of the garage tour was Director of Conventions Dino Mandros, assisted by MBS members Edward R. Crew II, Bob Sauer and Fred Simms.
Friday Tour: On the first day of the three day meeting, the garage tour concentrated on the properties generally to the east of the District of Columbia. The first stop was at Omni Ride (the Potomiac and Rappahannoc Transportation Commission) garage in Woodbury, VA. PRTC operates both a local system and commuter service into Washington. The commute fleet consists of 25 one door transit buses including a dozen 1989 TMC RTS 06's and 13 2000 Orion V's as well as 54 MCI highway coaches with plug doors and destination signs, including five 102-A3's, four 102-D3's, and 45 102-DL3's. The local service (known as Omni Link) uses small buses. The roster reports that the agency has 16 low floor Gillig buses that were deivered in August, 2004 that would be used on the local routes; it also states that 17 Chance CTS minibuses were to be sold in November. During our visit, only the Chance buses were seen. The next stop was at the The Bus (Prince George County Transit) garage in Forestville, MD. This agency operates a fleet of about 100 mostly small buses, including Champion, Goshen, Supreme, Thomas and Freightliner models–plus three 35-foot Gillig Phantoms. Then it was on to the Frank Martz Coach Co. and adjacent Peter Pan garages in Tuxedo, MD. Martz/Gold Line operates a fleet of about 200 highway buses in charter and tour service including MCI, Prevost and Vanhool models. Also in the fleet are abut a dozen trolley replicas and maybe a half dozen El Dorado vans. This fleet is split among several garages in the region. Next door is the Washington DC facility of Peter Pan Bus Lines. Only a couple of MCI coaches sere seen during the visit. After lunch, the first stop was at Dillon's Bus Service in Millersville, MD. This charter and state commuter bus operator has about 120 highway buses including almost 100 MCI's (102-D3's, 102-DL3's, 102-EL3's, D-4500's, E-4500's and J-4500's), Nine Prevost (H3-45's) and nine Vanhools (C-2045L). From there, the tour went on to the garage of Yellow Motor Coach in Anapolis Jct., MD. Yellow is another charter and state commuter bus operator, and has a fleet of about 75 highway coaches, including MCI, Dina and Vanhool and through its subsidiary Yellow Bus Service, owns about 75 small buses (International, Metrotrans, Bluebird, Thomas and Goshen), plus a couple of Orion I's and a half dozen Flxible transit buses, plus miscellaneous vans. The final stop of the day was at Eyere Bus Service in Glenelg, MD. Also a charter and state commuter bus service, Eyre runs 44 highway coaches, including MCI (96-A3, 102-A3, 102-D3, 102-DL3, 102-EL3 and J-4500) and Prevost (H3-45) models.
Saturday Tour: The gagage tour for the second day concentrated on the area to the west of the District. The first stop was at Alexandria Transit Co. in Alexandria, VA. Operating as "DASH," the company has 56 35-foot transit buses on its roster, including 13 1991 Orion I, 11 1996, ten 1998 and five 1999 Gillig Phantom and ten 2000 and eight 2002 Orion V models. The next three stops were at the two divisions of Fairfax Connector, the Fairfax County transit operation and CUE, the City of Fairfax local bus service. First there was the Lorton FC facility in Foilton, VA. At this location, over 100 35- and 40-foot Orion I and V models are operated. At the FC Reston VA facility, there are 45 40-foot TMC RTS 06 and 21 46 Orion V models of 30, 35 and 40 foot lengths. The CUE operation was observed at the George Mason University, where a special shuttle service was being provided to downtown Fairfax for a civic celebration. Seen in operation were 30-foot Orion I and Gillig Phantom units. A planned stop at Ride On, the Montgomery County transit operation was cancelled because of security concerns; a visit to the University of Maryland shuttle system was postponed until Sunday due to heavy traffic conditions. The final Saturday stop was at the National Capital Trolley Museum, which was operating DC Transit System PCC car 1101 and European PCC car 1329 from The Hague, Netherlands. The group photo was taken at this location before returning to the hotel.
Fall 2004 Business Meeting: The Fall 2004 business meeting was presided over by MBS President Charlie Sullivan. The major item of business was the election of officers. The current election for which ballots were mailed is for the year 2005, and another election will be held in 2005 for 2006. MBS members Fred McGullam and Bill Vallow were nominated for President. Other nominations for the other offices are open and will be included in the 2006 ballot, which will be mailed by the fourth quarter of 2005. Guest speakers were Phillip C. Wallace and Harpol Kapoor of the Washington Metropolitan Area Transit Authority Maintenance Department who spoke on the agency's equipment and maintenance program. A slide show was presented by Bob Sauer and Barry Smith.
Sunday Tour: The third day of the convention had originally been planned to visit several WMATA facilities, including the Bladensburg and Landover bus garages, and Central Control at Four-Mile Run. But because of security concerns, agency management was reluctant to allow tours of some strategic facilities unless visitors had undergone security clearance. It was not feasible to have the clearance done within our time frame, so our visit was restricted to only the Bladensburg bus gagage. The group was picked-up by a WMATA NABI articulated bus and transported to the Bladensburg garage. At that site historic buses 9112 (GM RTS T8W-603), 1912 (GM TDH-5105),and 7461 (GM TDH-5304) as well as Vanhool A330 40-foot low floor bus (ex AC Transit 1123)were lined-up for display, and later posed for photos. WMATA's Metro Bus fleet consists of 1466 buses in the active fleet, including 35 35-foot and 621 40-foot Flxible Metros, 42 26-foot Orion II's, 51 30-foot Orion V's, 344 40-foot Orion V's, 100 40-foot Orion VI's, 43 NABI 436 articulateds, 164 New Flyer C-40LF low floors, and 21 Neoplan AN-460 articulateds, plus four Ford and four Thomas minibuses. Most of these models were seen and photographed at the site. Attendees were provided with a walking tour of the overhall shops. Shortly before noon, the group was returned to the hotel. After lunch an Eyre Bus Service MCI J-4500 took the group on a short visit to Baltimore. Enroute, a stop was made at the University of Maryland bus garage, where a fleet of Flxible Metro, Thomas and Gillig Phantom transit buses, plus a number of cutaway vans and Mci highway coaches round out the UM fleet. Notice was too short to arrange for visits to any MTA locations; instead stops were made at the subsidiary facility of Dillon's Bus Service and at the Baltimore trolley museum. More examples of the Dillon's fleet were seen at the former stop, and attendees were provided with a ride on Baltimore Transit Co. PCC #7403 and visited the museum's book store as well.
Acknowledgments:
Buses for the convention were supplied by Frank Martz Coach Co. on Friday and Saturday and by WMATA and Eyere on Sunday. The Conventions staff wish to thank the following people for their efforts in helping to make the Washington DC convention so successful:
Washington Metropolitan Area Transit Authority: Tracey Jackson Wilson, Christal Murray
Potomac and Rappahannock Transportation Commission: Alfred H. Harf, Executive Director, Eric Marx, Director of Planning and Operations
Prince Georges County Transit: Mike Hannan, General Manager
Frank Martz Coach Co./Gold Line: A. Craig Smith, General Manager, Robert "R. C." Cornwall, Maintenance Manager
Dillon's Bus Service: Kevin Dillon, Sales and Marketing, Winston Thrower, Operations Manager
Yellow Motor Coach: Jeffery Barnett, Operations Manager, Lynn Brobeck, Safety Manager
Peter Pan Bus Lines: Jim Stiles, Northeast Regional Manage, Warren L. Marlow, MD/DC Bus Service Center Manager
Eyre Bus Service: Ron Eyre, President, Connie Buck, Charter Manager
Alexandria Transit Co.: Brad Puzier, General Manager, Brian Robey, Dispatcher
Fairfax County Department of Transportation: Mike Petlily, General Manager
City of Fairfax CUE Bus Service: Alex Verzosa, Transportation Director
University of Maryland: David Davitaia, Assistant Director-UM Transit, Rob Brown, Staff Manager
National Capital Trolley Museum: Thanks to all volunteers and members present.
Baltimore trolley museum: Thanks to all volunteers and members present.
Photos