Fall 1994 MBS Convention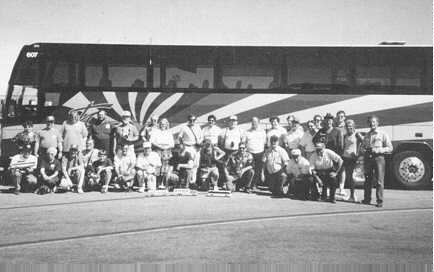 On October 8th and 9th, 1994, the annual fall meeting of the Motor Bus Society was held in Phoenix and Tucson, Arizona. Chaired by Bill Vallow with the assistance of Phoenix residents Lanny Trapnell and Jim Park and Tucson resident Gene Caywood.
Valley Coach Gillig 6513, used in Arizona State shuttle service, provided transportation to a variety of interesting places in the Phoenix area. The first stop was the Amtrak station to pick up members.
Highlight of the day was the visit to Phoenix Transit's (now Valley Metro) south yard. A most informative tour was provided by T. J. Ross, assistant general manager for maintenance, who was also our featured speaker for the evening. Members were treated to a wide variety of equipment, including increasingly rare AM Generals, MAN articulated, newlook Flxibles, Flxible Metros, and the newest buses on the property, New Flyers. These will be the last diesel buses to arrive at Phoenix, as Arizona law now mandates only alternative-fuel coaches.
Among other stops were Arizona Bus Lines, which had a pair of MCI'S, one in a bright new blue, yellow and white scheme, the downtown terminal, where we viewed a Navi-Hopi MCI on the Phoenix-Flagstaff run, and Southwest Custom Conversions, which had a Prevost articulated being converted to a motor home at a cost of $1 million.
The next stop was Valley Coach to view a real variety of equipment. Valley Metro RTS's in the 3500 series are being repainted in an attractive maroon and white color scheme for free shuttle service in downtown Tempe, home of Arizona State University. It was unusual to see RTS's with the entire lower bodies painted; this proves it can be done.
Other equipment at Valley Coach included two Denver RTD Ford Econolines, Orion II's, ex-Hammond Transit (Ind.) RTS's and an out-of-service MCI in a Most attractive color scheme. A Gillig used in Phoenix airport service was also present; Valley Coach reports the Gilligs are wearing out because of virtual round-the-clock service seven days a week.
A stop at Roadrunner Bus Lines featured a most attractive MCI with a scenic design on the sides. our final stop of the day was at De Long Diesel, where members photographed a variety of equipment belonging to various charter operators in the area.
Our meeting Saturday night featured T. J. Ross, who spoke on proposed new developments in bus design and answered the questions of members. He stated Valley Metro's goals are to improve weekday and Saturday peak hour and night service before considering Sunday service. Phoenix, which has a metropolitan population of almost 2,000,000, is the only major city in the United States with no Sunday service. Mr. Ross said Valley Metro and the city are hoping for passage of a half percent sales tax in November. The major reason for Phoenix's bus system being so small has been the lack of an adequate support base.
Sunday, October 9, featured a spectacularly painted high-level Prevost H-340, supplied by TCI of Phoenix, through the efforts of Steve Goldmamm and Bernie Pollack. only two months old, it provided a fast, smooth ride.
We had hoped to view John Worth's 156 Flxible and '47 ACF-Brill, but were unable to do so. We stopped first in Tucson at Canyon state charters, which operates three MCI's (two MC 8's and one MC 9) in charter service and on a regular run between Tucson and Nogales. Mountain View Tours was next and very kindly backed out a LAG, painted an attractive green, gray, and blue. out of the garage for photographs.
After lunch on South 6th Avenue, we visited two transit centers operated by Sun Tran of Tucson, the Laos Transit Center, which provides a convenient means of transfer between routes serving the southern and western parts of the city. Tucson has a downtown transfer facility, Ronstadt, and is building another.
The visit to the Sun Tran maintenance featured a tour by General Manager Bruce Behncke. We learned that Sun Tran is planning to build a new, larger facility as soon as a site can be confirmed. Because of the need for a new facility and to fine tune the routes, the fleet has been allowed to age, but new buses are in the planning stages. Sun Tran's number 217, a GMC TDH 4512, was one of the first buses in Tucson to receive air-conditioning via a roof mounted unit. The bus is operated sporadically for special events.
Sun Tran's equipment was widely varied and quite interesting. AM Generals in the 5500 and 5700 series are due for replacement soon, The rest of the equipment is numbered by using the first two digits to indicate the year of purchase. We saw 1974 GMC newlooks, 1974 and 1975 Flxible newlooks, 1981, 1984, and 1989 RTS'S, Neoplan from 1991 and 1993 and 1994 Orion II.
After the Ronstadt Transit Center, members enjoyed a visit to Old Pueblo Trolley, operated by member Gene Caywood, and a ride on #10, a Birney that operates to the University of Arizona from Old Pueblo headquarters. Other stops included Citizen Auto Stages/Gray Lines, which operates strictly MCI'S, including beautiful new 45-foot coaches.
A visit to All-Aboard America provided interesting viewing of Mack Sheesley's restored PD 4104 and an MC 5 along with a variety of antique automobiles. An attractive new MCI arrived during our visit.
Our final stop was Classic Coaches, which had three newlook GMC fishbowls and an MC 5, along with a couple of derelict London double-deckers. One, or two surprises were visits to various yards to view old buses in various conditions. We saw several ex-Tucson TDH 4512's, a '46 Ford and a '46 Twin Coach owned by Old Pueblo Trolley.
Our meeting concluded, we returned to Phoenix, very satisfied with a memorable weekend. We extend thanks to all who had a part in a tremendous convention. --Bill Vallow