Fall 1995 MBS Convention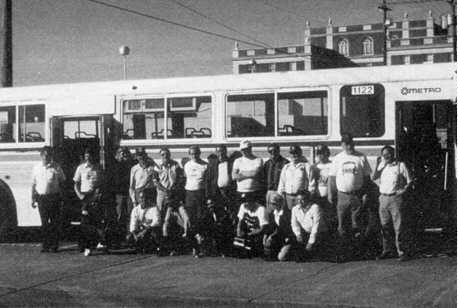 The annual Motor Bus Society Fall Convention was held this year in Seattle, Wash. on Saturday and Sunday, Oct. 14 and 15. The headquarters was the Ramada Inn on Northgate Way (105th Street NW) 1/2 block west of Interstate I-5.
We were under way at 8:30 a.m., on Saturday to the Seattle METRO garage, just south of downtown. Our bus was a 1968 GMC TDH 5305-(025) ably driven by Josh Shields, one of our West Coast MBS members.
We were greeted by four 1940's trolley coaches, beautifully preserved. Then, to our surprise, we were treated to a two-hour ride, through downtown to northwest Seattle, aboard three of the coaches. They were #643, 1940 Twin Coach GWFT-(75239); #798, 1940 PCF-Brill 40SMT (6006-9-8) and #1005 Pullman-Standard 41CS-100-44-CX (5527). They performed beautifully, and we made several photo stops. The coach that we didn't use was #636, 1943 Twin Coach 44GTT-(78083). Returning to the garage, we switched to one of the dual mode Breda buses for a tour of the Bus Tunnel, along with photo stops.
Then it was off to the Greyhound depot, after which we visited Greyhound's maintenance facility and lot. There we saw one of the latest MC-12's, 2691 built in June 1995.
After a lunch break we went to Community Transit, in Snohomish County, north of Seattle. Community operates express service to downtown Seattle, along with local service to county communities and the city of Everett. Its fleet of over 130 buses consists of 1979 Flyer D800's, 1977 AMG 10240B, 1981 Flyer D901's, 1981 GMC RTS', Crown Ikarus, 1992 Orion V's, 1995 Flyer LF's and the following articulated buses, 1983 and 1990 Neoplans, 1991 Ikaruses, and 1988 and 1995 New Flyers.
Augmenting the above buses are more than 100 buses, operated for Community Transit by A.T.E. Management. These consist of 1986 and 1988 RTS and TMC,S, 1987 Gillig 4096TB's, 1991 remanufactured GMC T80204's and 1991 Ikarus and 1995 New Flyer articulated. Quite a fleet and a treat to see it in downtown Seattle during the peak load hours.
Then it was off to Everett's pulse point, the Greyhound terminal and the Everett Transit garage. Its small fleet consists of Gilllig Phantoms (1981, 1987 and 1992 models, 1983 Orion 01.506's, and 1992 and 1994 Orion 05.501's, along with Ford paratransits, vans and Elf busses. Its mechanics have a strange setup as they also maintain Everett's municipal fleet of police cars, etc., along with the transit buses.
We returned to the Ramada Inn, where after dinner we had a short business meeting and flea market. After these events we were treated to a slide show of local western Washington transit companies, with the narration done by Wayne Hom, Josh Shields, and Allan Sparnne.
Another beautiful October day dawned on Sunday, and we were under way at 9 a.m., aboard Josh Shield's #517, a 1963 Flxible F2D6V-401-1 (51749) ex-Seattle Transit System #517. At the hotel was member Les Bagly's restored 1953 GMC TDM 5108-(021), which he drove down to Atlantic Station Depot.
We proceeded to the Gray Line of Seattle garage which is part of Evergreen Trailways Inc. The fleet consists of approximately 150 buses, including MCI MC5C's, MC8's, MC9's, 96A3's and 102A/C3's. Several Eagle AE10's and Prevost XL's were also in evidence. A Prevost articulated H5-60 of Westours, an affiliated operator, #1009 (IMI001104), was in for service.
A highlight of the two days, was the antique coaches seen at our next stop, the METRO Training Center Complex. The Metro Employees Historic Vehicle Association's historic fleet plus Les Bagley's other 1954 GMC TDM 5108-(033). Also there was a 1951 GMC PD 4103 (1176) ex-Oregon Motor Stages #143, now used to transport the Lynnwood, Wash. drill team. The following vehicles were there on display. Quite an array of historic and current buses.
#172     1947 Twin Coach          41S     (1049)


#263     1955     GMC          TDH 5105   (1579)


#598     1963 Flxible          F2D6V      (51830)


#724     1968     GMC          T8H 5305     (025)


#1122    1976 AMGeneral        1024OB-8   (0363)


#1212    1976 AMGeneral        1024OB-8   (0453)


#1097    1948 Twin Coach           41S    (1069)


#1525    1978  M.A.N.             SG-220  (0137)


#1700    1979  Flyer           D10240C    (1565)


#2962    1959     GMC          TDH 4512   (3088)


#3120    1986  M.A.N.          SL40102L   (FC231539)


#5193    1991  Breda           ADPB350    (JPBCF194) Dual-mode articulated



After a break for lunch, many eating at the Poodle Diner in Fife, we headed south on I-5 for Tacoma. After a brief stop at the Greyhound depot, we went to Pierce Transit. Pierce runs the Tacoma local service, as well as express service north to Seattle. We were met and escorted oh a nice tour of well maintained Pierce Transit property by Mrs. Joan Cooper.
Pierce Transit has a complete maintenance shop, even doing its own seat re-covering on its fleet of 210 buses. After our tour of the property we boarded Pierce's 1948 Twin Coach 41S (1153) #257, which has been preserved and repainted into the green Tacoma Transit colors. We were taken into downtown Tacoma, where we saw the new off street Pierce Transit bus terminal, and the beautiful two-story-high cascading fountain. We then went on a tour of the city, and had a splendid view of the Cascades, including Mt. Rainier. --Charlie Bailey
Ed. Note: The Metro Employees Historic Vehicle Association did the work to make this convention successful. Several years ago the Motor Bus Society had planned to operate a similar convention in Seattle with the Metro Employees Historic Vehicle Association assistance. However, the convention didn't happen because of changes taking place within the Motor Bus Society.