Spring 1995 MBS Convention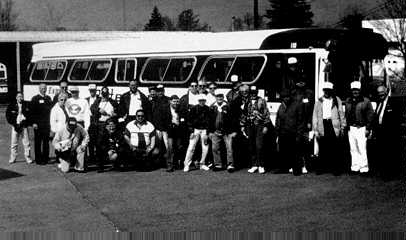 The 1995 Motor Bus Society Convention was held in Springfield, Ma. on April 22, 1995. The Holiday Inn, three blocks from the Peter Pan Bus Garage and downtown bus terminal, was the headquarters.
At 8:30 A.M. Saturday morning we boarded two buses, an Arrow Line, of East Hartford, Ct., # 1112 a 1979 GM of Canada T8H 5307A-(M004), ex 774 Queen's-Steinway Transit 774, and Peter Pan #110, a 1965 GMC SDM 5302-(490) ex Hudson Bus Lines 253.
Our first stop was at Pioneer Valley Transportation Authority at the University of Massachusetts campus in Amherst. The highlight there were "baby fishbowls" GMC 29 foot #3000 TDH 3302N-(042) and #3001 TDH 3302A-(079) #3000 was built in 1972 and the #3001 in 1973. There were only 510 of these "baby fishbowls" built. Several others were out of service in the back yard.
After a brief stop at Hampshire College, to photograph #3002 TDH 3302N-(090) which was doing line work, we proceeded to U.S. Express/Western Mass. Bus in Springfield. Almost all of the fleet was out on the road. Six fishbowls used in local charter service were outside and two preserved small Yellow Coaches, a 716 and a 733, were in a garage.
After lunch, in downtown Springfield, we visited PVTA/Springfield. Their fleet consists of 1978 GMC RTS-II TW-7603's, 1980-1982 Grumman/Flxible 870-40096-6Ts, 1986 Neoplan AN440's, a 1991 TMC T8J606 and 1992 TMC T8J206s. The rest of the afternoon was spent at Peter Pan's Travel Line and Coach Builders Divisions, after which we went to the garage and terminal, where we were met by Mr. Peter Picknelly, a very congenial gentleman! He operates quite a fleet of clean modern busses, we all enjoyed his hospitality.
The flea market and meeting began in the hotel at 6:15 pm, after which Charlie Sullivan conducted a slide show of New England companies. He was ably assisted by Pete Castellanos and Joe Scully.
On Sunday, April 23rd, we boarded Post Road Stages #211, a 1986 Eagle AE10 (6GBO31600), and Bonanza Bus Lines 8405, a rare two axle 1984 MCI mc-9 (OEP039304). Post Road Stages, of South Windsor, Ct. was our first stop. We were met with a surprise, ex Mt. Hood Stages 202, a 1958 GMC PD-4104 (3640), which had just been driven in from Oregon on Thursday. It is being preserved by Post Road Stage's owner, Mr. Collins, along with their original 1964 GMC PD-4106 (2679), fleet #121. Their roster consists of nine Eagle AE10 and AE15's, 1985 thru 1990, three MCI-MC-8s a 1974 and two 1977s and six MCI MC-9's, vintage 1980-84. Their garage was extremely clean, the floor painted brick red. The whole operation was top notch!
Our next stop was Arrow Lines, we were welcomed with coffee and donuts. Pete Webster has his 1947 Mack stored here. Arrow's fleet consists of twelve T8H-5307A's, ex Queens-Steinway Transit, GM Canada built, thirteen Grumman Flxible 870's from Columbus, Ohio and San Jose, California and thirty plus intercity/charter buses. A impressive operator.
We went to DATTCO next, in New Britain. We were surprised to find their yard full of buses. They are another MCI customer with many MCI-9's, 96A3'B 102A & C3's. Also in the yard were several Eagle 15's, GMD T8H-5308A's, GMC RTS T80204's, an Orion 01.501, and several brand new MCI 102DL3,s.
Our most interesting stop was next as we went to Double A Transportation in Rocky Hill. It's a bonanza for old look GMC's and "fishbowls". My choice is 1955 TDM-5106 (017) ex Holyoke Street Railway 212, ex-ex PSCT K701! They also have a TDH-5105-(060), which is probably the oldest, Does anyone have the former and/or original owner? (Ed. note: This serial number on the bus should read #322, ex-38 Holyoke St. Rwy, ex-ex 33 New Britain Transp, ex- ex-ex 3833 Rhode Island Public Transportation Authority. The bus came from Holyoke St. Ry and was their only TDH 5105, it is not ex-ex 3742 St. Louis Public Service, that bus was scrapped by Bi-State years ago.)
The owner, Tony, stated that Double A started out as a school bus operation. He still drives a run, but now it's a transit run. He is a real bus "nut", just like the rest of us!
The last stop of the day was Connecticut Transit, in Hartford. Where we were given a special tour of their huge complex. we were told that it is the size of fourteen football fields. They put us on a bus to go from one end of the garage to the other end. Their fleet is made up of 1990-92 TMCI (Classics) TC-40102A's and New Flyer D40's, 1992-94 vintage. Four of their old GMC TDH-5303's were there, renovated as a mobile Command Center and special events buses.
Chet Furmanek drove up from New Jersey in his restored 1948 GMC PD 4151-(236). This is the bus that was used in the movie "A League Of Their Own"' to haul the Rockford (Ill.) "Peaches" baseball team to games. This was an all girl's league formed during World War II. The bus is ex-Central Greyhound Lines # C6226. Chet followed us down to Hartford on Sunday and got a head start home. It was a nice two days of bussing and was enjoyed by one and all. --Charlie Bailey